Tilt/Turn, Turn-Only, and French Patio Doors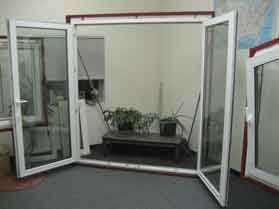 These are the best patio doors made.
Period.
An inward opening patio door that opens in two directions much like the Tilt/Turn window above.  Turning the handle 90 degrees will allow you to turn the window inward on hinges mounted on the left or right.  Turning the handle 180 degrees will allow you to tilt the window inwards on hinges mounted horizontally at the bottom.  The European hardware locks up in tilt-mode so that intuders cannot reach a hand in and turn the handle to let themselves in.
The insulated glass used in our doors is 1 3/8" Triple Pane / Double LowE / Argon filled / Tempered safety glass. High-security glass and patterned or obscured glass are available as well. The Frame and Jambs are constructed with fully insulated pultruded Box-Section framing. These are then wrapped with 9-12 locking points that are spaced along all fou edges (top, bottom, and both sides) making this the warmest, tightest patio door available.
Our doors can be configured as a single panel Tilt/Turn, a two panel Tilt/Turn-Fixed, or a two panel French (two opening panels with no post in the middle). Sidelites, transoms, and many other configurations are possible as well. Outward opening configurations are available for certain hinge and handle combinations.
Product Details
Below are links that may be useful when designing for our Patio doors.
Common Patio Door Configurations
Click to view the complete Patio Door gallery.