Entry Doors designed and built in Alaska for Alaskan winters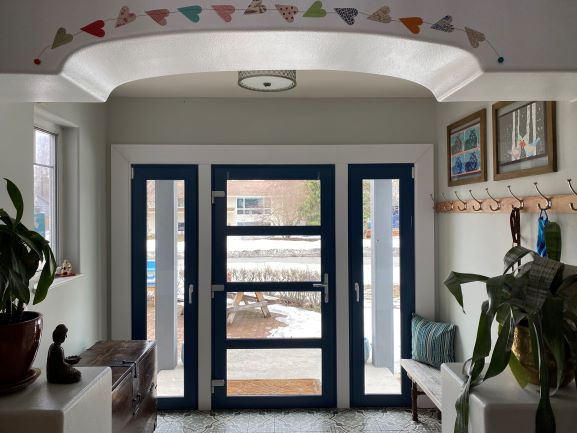 This is the warmest, tightest, and toughest arctic door made.
We create this door by bonding 1/8" pultruded fiberglass skins to a 1 3/4" EPS foam core. The core is then bonded to a fully insulated pultruded fiberglass Box-section perimeter frame. Next, the frame is wrapped with two perimeters of Santoprene rubber weatherstripping (rated to -81F). European hardware that secures a deadbolt and drives 10 locking points wrap around all four edges (top, bottom, handle side, and hinge side) and lock the weatherstripping and frame down tight to the included jamb and threshold. Our jambs are also fully insulated pultruded fiberglass. They are about twice as thick as a standard jamb and are integral to the security and warmth of the door system.
Multi-point handles and locksets are standard and are available in a variety of finishes and handle shapes. Painting is required. You can dictate the color to us or receive it raw (as shown in the photo above) and paint it yourself for a lower cost.
The insulated glass used in our doors is 1 3/8" Triple Pane / Double LowE / Argon filled / Tempered safety glass. High-security glass and patterned or obscured glass are available as well.
Our Entry Doors can can be configured as a solid insulated panel, half-glass/half insulated panel, or smaller partial glass inserts. French Entry Doors, Sidelites, Transoms, and many other variations are possible as well.